API for developers
Learn more about PUSHTech™ API
You'll find comprehensive guides and documentation to help you start working with PUSHTech API as quickly as possible.
LEARN MORE

API
Get started
Our REST API lets your systems interact 24/7 with PUSHTech™. You can automate processes easily by integrating our REST API from your Backend, CRM or ERP.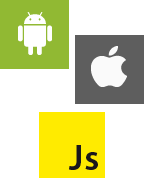 SDK
Powerful SDKs
PUSHTech™ SDKs are available for Android, iOS and Web. Choose your platform to access documentation, guides and download SDK.